The brief descriptions below are designed to familiarize you with our staff's training, professional credentials and work experience.
Dennis R. Mooney, DDS
Doctor of Dental Surgery
Dennis R. Mooney is a graduate of Loyola University and the Loyola School of Dentistry in Chicago, Illinois. He served several years as a Lieutenant Commander in the United States Public Health Service, which brought him to Tallahassee, Florida. He opened the first and only Dental Clinic in the history of Wakulla County in 1975, after making the decision to care for patients in a rural shortage area, and has provided quality dental care for those patients ever since. Dr. Mooney served on the Board of Governors which brought the first Wakulla County Medical Center in Panacea, Florida. He was also the President of the first Wakulla County Humane Society. His commitment to his community, and to his patients, is unmatched as proven by more than 45 years of care to ALL people in Wakulla without discrimination. He works tirelessly to make your dental care his top priority. In his search to be able to deliver the most comprehensive care possible, Dr. Mooney has studied with national and international leaders in the Dental Community and has compiled a vast knowledge of advanced dental education & techniques. He continues to seek out the latest in advanced techniques to benefit his patients and responsibly brings the latest technologies to his unique practice in Crawfordville. Dr. Mooney is a huge FSU Seminole fan, who loves to talk about Seminole football and basketball. He and his late wife, Mary, were married for 52 years. They have one daughter, former Seminole Cheerleader Krista Mooney Kahn, JD, PhD. and 3 grandchildren, whom he also loves to talk about.
Sharon Jackson Hines, RDH
Registered Dental Hygienist


Sharon has been with us since graduating from Dental Hygiene School in 2000. She volunteers with our schools & in the community by providing school dental screenings. Sharon is certified and trained in the most current techniques to gently return your mouth to optimal health including the use of local anesthetics. Sharon is dedicated to providing preventive care and educating her patients in a comfortable and friendly environment. She is wonderful with even the most nervous young patients, the older ones too. Sharon is a lifelong resident of Wakulla County, and is married and they have a beautiful daughter.
Nicki Beam, RDH
Registered Dental Hygienist
Nicki graduated Dental Hygiene School in 2005, and joined our practice in 2012. Nicki enjoys her dental hygiene patients and her patients adore her. She is intrigued by & enjoys discovering the correlation of how dental health fits into a patient's overall health. She is also passionate about helping patients discover small changes that can be made to improve not just dental health but their overall well being. She & her husband, Erick who is a local Firefighter & builder, have two children, whom they are very involved with. In their spare time enjoy camping, kids sporting activities & other outdoor adventures.
Sandra Olah
Dental Assistant
Sandra joined our staff in 2023, and we are glad to have her! She's been at home in the dental field for over 30 years and happy to be working once again close to home in Crawfordville. She is married and when she's not helping Doc with restorative work she enjoys the outdoors & spending time with her horses.
Leigh Annand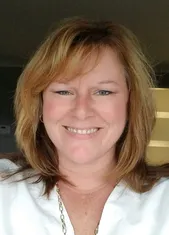 Adminstrative Staff/Office Manager
Leigh
Is a resident
Leigh has been a part of our staff since 2001. She is our local "Girl Friday" she does it all! She wears many hats, she handles Insurance, Billing, Scheduling, Financial Coordinating, Computer Tech issues & even random facility repairs. She & her husband have 4 children, 2 daughters, 2 sons & 3 granddaughters, who are all very active in all kinds of activities. She enjoys anything her kids are doing, sports & camping. In her spare time she volunteers in the community through the Wakulla County Recreation Department, her local church, our schools & other local youth sports organizations and has for the last 25 years.